Buy Pollen Shot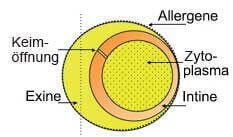 Pollen – also known as flower pollen – are the male reproductive cells of plants. They contain a wide variety of plant substances, including traces of minerals, vitamins, trace elements, enzymes, essential fatty acids, amino acids and secondary plant substances such as certain flavonoids and polyphenols. If you require a high-quality product then this is a must buy product. Pollen Shot!
The hard Pollen Coat: Cause of Allergies 
The hard pollen coat protects the valuable ingredients of the pollen. It consists of specially formed proteins that can sometimes cause allergies in the human body. During the digestion process, the pollen coat is largely preserved and remains unopened.
With Pollen Shot, the pollen shells were treated and broken open using a special, gentle and patented process. This is also known as split (open) pollen. Now the body can absorb the ingredients in the pollen. As the pollen coat is no longer intact, the risk of allergies is also greatly reduced. As part of our duty of care, you should know that a minute amount of the pollen shots may still contain traces of allergenic substances.
Pollen of the highest Quality
Our 100% split flower pollen is carefully harvested, processed soon after being harvested and processed into a water-soluble pollen extract of the highest quality. The flower pollen is harvested with special giant vacuum cleaners. This ensures that only pollen from the desired species and from controlled cultivation are included in our Pollen Shot. The pollen comes from maize and pine blossoms grown in healthy and nutritious soil.
Buy Pollen Shot with high bio-availability
Nutrients in conventional pollen products (not split), are only partially absorbed in the intestines (3-12% are mentioned in most research literature). The hard pollen coat cannot be opened and is not digested well during the digestion process. The pollen grain is thus excreted mostly intact. Pollen Shot is different, due to the pollen grains being split open, the body can naturally absorb the ingredients much more easily during digestion. When taking into account the differing bio-availability, the split pollen in Pollen Shot is more cost-effective than pollen products without split pollen.
Origin of the Pollen
The pollen in Pollen Shots comes from Sweden. We buy the pollen in Sweden as a raw material and test and process it in Switzerland.
What are the advantages of Pollen Shot?
– Split (open) pollen shells offer a higher bio-availability.
– No allergies due to destroyed pollen coating.
– 100% vegan pollen.
– Mechanical harvesting: Only the desired pollen species are harvested in a controlled manner.
Buy Pollen Shot now!
Buy Pollen Shot online now: We also accept Visa / Mastercard and Postcard. Orders exceeding CHF 120.00 are shipped free of charge (within Switzerland). EU customers please use our EU-Shop.