Habanero
Habanero: interesting facts
It belongs to the genus paprika in the family of the nightshade family.
Recent research suggests, however, that the real origin is the Yucatán Peninsula. Habaneros are mainly cultivated on the Yucatán Peninsula. The red varieties mostly come from the Caribbean.
The fruits are 2.5-6 cm long and about 2.5 cm wide. Depending on the Habanero variety, the initially green fruits turn yellow, orange, red or brown.
Due to the recent increase in the hobby cultivation of chillies, more and more new varieties are being introduced, which are supposed to stand out with special characteristics.
Red Savina claimed the title of the world's hottest chilli for a long time before it was taken up by the variety Naga Jolokia. The similarly spicy orange variety Francisca comes from the same breeder. Habanero Chocolate or Brown Habanero mature brown and thus often look deceptively chocolate-like. Some breeders have managed to establish varieties that offer the typical Habanero taste without the extreme pungency.
These varieties include Habanero St. Lucia Island, NuMex Suave and Aji Dulce.
Habaneros are among the hottest chillies. Concentrations of up to 1500 ppm capsaicin can occur in the seeds and seed strips. The values measured on the Scoville scale for Habaneros range between 100,000 and 577,000 units.
Caye Vida
Cayenne pepper with green tea extract from Swiss chili peppers. 72 capsules containing 530 mg < More Details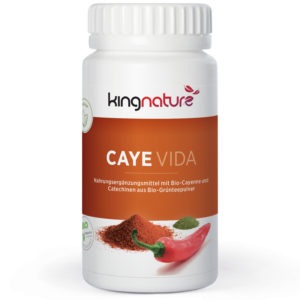 CHF 49.00
Feet Protection Cream
100% natural fungus protection cream with Artemisia, cinnamon and habanero from Swiss cultivation. Due to < More Details
CHF 25.00
Hot Shot Sports Cream
Warming sports cream with pure herbal additives & aloe vera, without parabens < More Details
CHF 29.00