Increases Iron Absorption
What increases iron intake in humans?
Not everyone with low iron needs treatment.
Why is there not enough iron? What increases iron intake?
Chronic inflammatory bowel disease can be the cause that the body does not take in enough iron. However, it is not clear that they have complaints or deficiency symptoms because many live very well with very low iron values.
Whenever patients suffer from anaemia, i.e. the concentration of blood pigment is too low.
Only when intolerance or a lack of ferritin increase occurs should a – moderately dosed – iron infusion be carried out. This increases the absorption of iron.
Infusions are a very good business. A worthwhile sales market, because infusions cost about five times more than conventional iron preparations. Tablet therapy, however, takes months.
Premature controls are only indicated if the symptoms do not improve or disappear within a few weeks.
Women need about 15 milligrams of iron a day, men about 10 milligrams. These quantities can be absorbed through food.
Aronia Shot
Aronia Shot is soluable in water and the perfect Sports Drink < More Details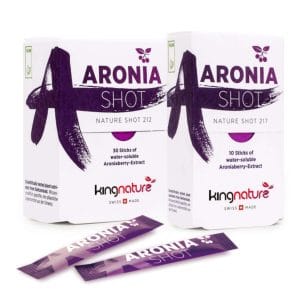 Select options
Aronia Vida
Aronia extract from Swiss aronia berries. 100 capsules with 500 mg each of aronia extract < More Details
CHF 69.00
Pollen Vida
Bee pollen extract, processed in Switzerland. 90 capsules, each containing 333 mg digested pollen and < More Details
CHF 58.60