Switzerland
It comprises German, French, Italian and Rhaeto-Romanic language and cultural areas whose inhabitants live together as nations of will. 8.4 million people live in Switzerland, including 2.0 million without Swiss citizenship. In relation to the total population, 37 percent have a migration background. The country is one of the more densely populated states in Europe, with the population concentrated in the Central Plateau, the basin between the Jura and the Alps.
Switzerland's seven largest cities and national identity and cohesion are not based on a common language, ethnicity or religion, but on intercultural factors such as belief in direct democracy, a high degree of local and regional autonomy and a strong culture of willingness to compromise in political decision-making. According to the human development index, Switzerland is one of the most highly developed countries.
The smallest political unit is the municipality. Cities also count as communities. Other major cities are Geneva with 201,813, Basel with 171,017, Lausanne with 137,810, the federal city of Berne with 133,115 and Winterthur with 109,775 inhabitants. The largest cities with less than 100,000 inhabitants are Lucerne, St. Gallen, Lugano and Biel/Bienne.
Around 1,315,700 people live in the Zurich agglomeration, 570,200 in the Geneva agglomeration, 537,100 in the Basel agglomeration, 406,900 in the Berne agglomeration and 402,900 in the Lausanne agglomeration. The smallest communities by area are Gottlieben, Kaiserstuhl and Rivaz, each covering 0.32 square kilometres.
Aronia Shot
Aronia Shot is soluable in water and the perfect Sports Drink < More Details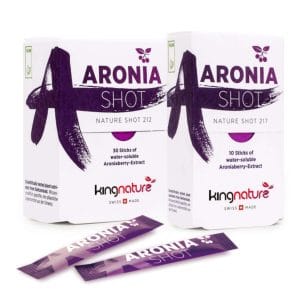 Select options