Vitamin C
Factors influencing vitamin C status include lifestyle factors such as smoking or taking certain medications. These include oral contraceptives, acetylsalicylic acid and the sulfonamides used as antibiotics and antidiabetics. According to the Austrian Nutrition Report 2012, active smokers have a lower plasma concentration of vitamin C, even if there is a sufficient supply of this vitamin. In addition to smokers, people with diabetes and the elderly are also among the groups of people who often do not receive sufficient antioxidants.
are increasingly exposed to oxidative stress.
[…]
The reason for any deficiency symptoms, such as bleeding, inflamed and bleeding gums, delayed wound healing, edema and joint pain, is the reduced ability to form collagen. In scurvy patients, the cross-links between the chains of the collagen molecules are also unstable. In very severe cases of scurvy, bleeding may occur in the conjunctiva of the eye, retina and brain.
How is vitamin C deficiency treated?
The administration of 100 milligrams of vitamin C per day normalizes the general condition and the resulting bleeding tendency within a few days. Any haematomas that occur are reduced within a few weeks.
Is it possible to take too much vitamin C?
The more vitamin C is absorbed, the lower the absorption rate, as excretion through the kidneys increases. However, taking high doses of food supplements can remove water from the body, which can lead to disorders such as diarrhoea in the gastrointestinal tract. These subside after discontinuation of the ascorbic acid preparation. However, extremely high doses of vitamin C, taken over a longer period of time, should still be avoided, especially in children and infants.
Aronia Shot
Aronia Shot is soluable in water and the perfect Sports Drink < More Details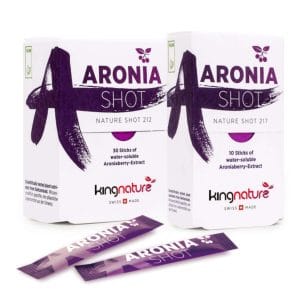 Select options