Aronia
Aronia
We invite you to get to know the  Aronia products better.
The sunnier the location, the more fruit sweeteners can be formed in the fruits of the berry. From August, the small, dark-violet aronia berries ripen on umbels and sometimes weigh heavily on the branches.
How do aronia berries taste?
Whether fresh, dried or as juice – aronia berries have a finely tart and sour taste.
Origin and history of the aronia berry
There, wild shrubs thrive on a wide variety of soils. The indigenous people already appreciated the small dark aronia berries and used them, among other things, as a preparation for winter food. Soon thereafter, the first chokeberry growing areas were established on the territory of the former Soviet Union.
The chokeberries (chokeberries) are a plant species within the rose family. The only three species originally come from eastern North America and grow there as shrubs one to two metres high. The two species most frequently cultivated due to their apple fruits are the felted apple berry and the black apple berry.
delineation
The simple leaves of chokeberry are elliptic to inverted egg-shaped, 2 to 8 centimetres long, mostly short pointed, finely notched, with black-red hairs with bright red autumn colouring on the upper side. In umbelliferous inflorescences of chokeberry ten to twenty flowers stand together. The hermaphrodite, radially symmetrical, five-pointed flowers have a diameter of about one centimetre. The red or black, apple-shaped fruits of chokeberry have a diameter of 5 to 12 millimeters and have a core.
Aronia Chocolate
Dark vegan chocolate with a high-quality aronia extract. Made in Switzerland. Soy-free. Milk-free. 2 vegan plates < More Details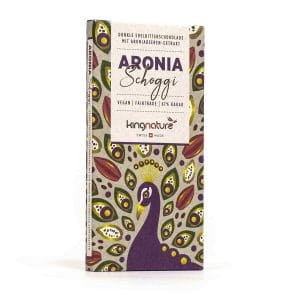 CHF 6.80