Green tea extract
Green tea extract short and sweet: The most important facts
"Protective and invigorating" is the best way to describe the effect of green tea. Green tea and green tea extract have numerous positive effects on the metabolism. According to epidemiological studies, the consumption of green infusion drink is a preventive factor for vascular diseases, diabetes and cancer. Cholesterol and oxidative stress were actually reduced after administration of tea extract with epigallocatechin-3 gallate. Therefore, a protective effect is assumed for the veins, heart and brain.
GTE could also be useful to support weight loss, as some studies on an overweight group of people show.
All applications at a glance, sorted by effectiveness
You can get a detailed definition by moving the mouse over the respective sheets.
Caye Vida
Cayenne pepper with green tea extract from Swiss chili peppers. 72 capsules containing 530 mg < More Details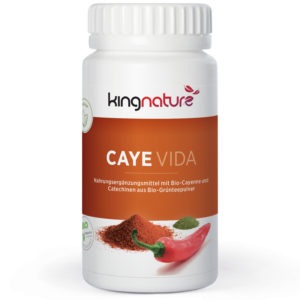 CHF 49.00