Fleximove
Order quantity
1
2 - 3
4 - 7
8 - 100
Unit price

CHF

 45.00

CHF

 42.30

CHF

 40.20

CHF

 39.00
Fleximove joint oil containing high-quality essential arnica oil, St John's wort oil and CBD in an aromatic therapy blend. Net content 30 ml.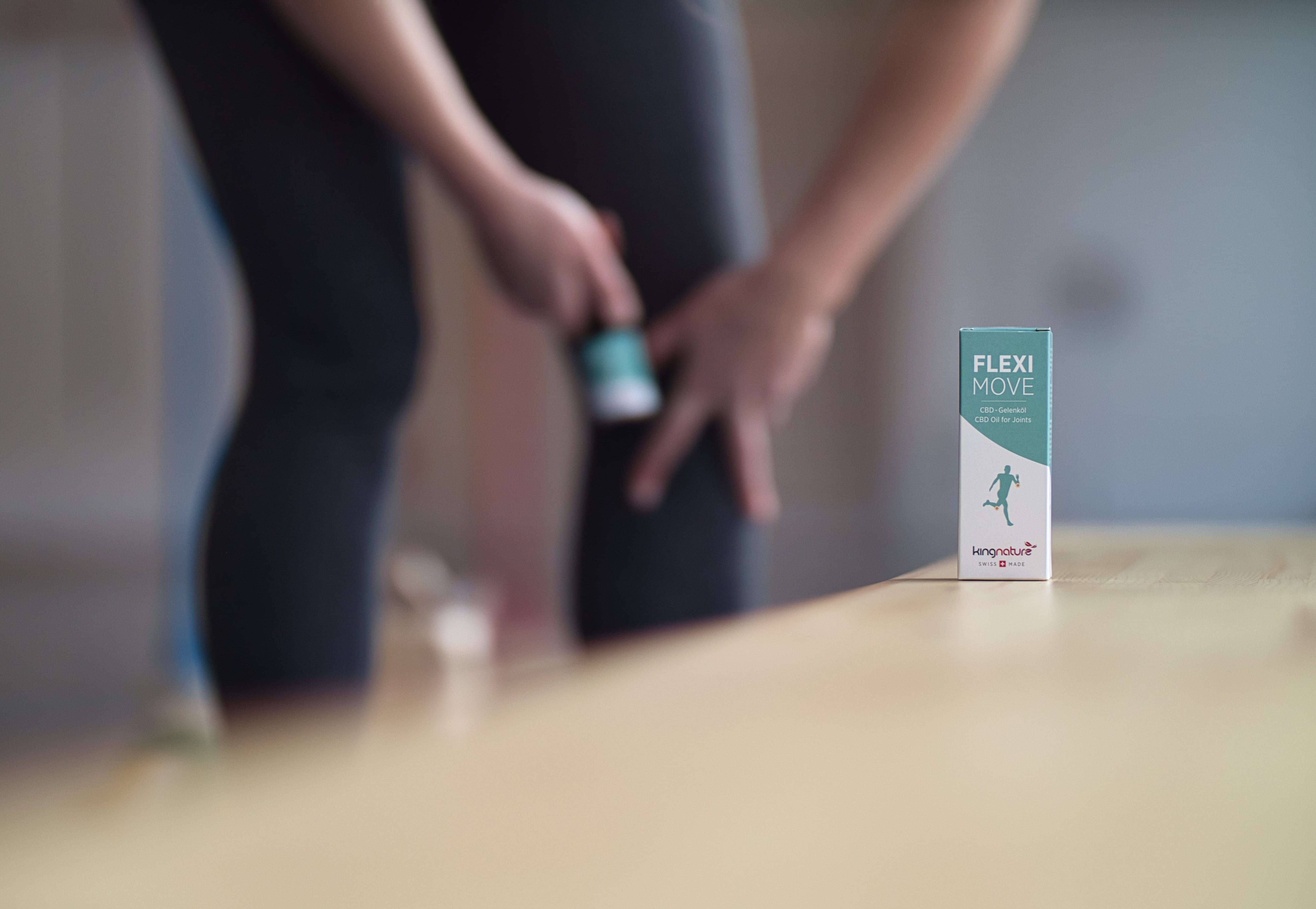 Pleasantly caring joint oil! Contains a special mixture of essential oils of arnica, St. John's wort and hemp (CBD). Pleasantly fragrant and caring.
Buy Fleximove – natural joint oil with CBD and Arnika
Fleximove is a special mixture of essential oils, which in their combination are a pleasantly caring joint oil and contribute through their caring character to the preservation of the body functions. The essential oils are based on Arnica and St. John's Wort. These two herbs are well known in aromatherapy and can be used for care. In addition, we use a CBD extract to perfect the combination.
Arnika (Arnica montana)
Arnica is a flower from the daisy family (composite flowers). It is native to mountain meadows all over Europe and flowers from June to August. Mainly the flowers are used. They contain sesquiterpenlactones, and importantly a particular substance called Helenalin, as well as flavonoids, tannins, coumarins and essential oil. Arnica has been used for personal hygiene since the 17th century.
Info for resellers only: Study: Arnica gel versus ibuprofen gel for the topical treatment of osteoarthritis of the hand
St. John's Wort (Hypericum perforatum)
St. John's wort is an undemanding perennial plant that also grows wild in many areas in this country. In naturopathy, essential extracts of this valuable plant have been known for centuries and are also used regularly.
Why add CBD to Fleximove?
The addition of CBD strengthens the sought-after interaction of the essential oils. Due to its positive properties, it is successfully used by various experts in patients. CBD is well known and used in various applications but these details are not in the scope of this description here.
The CBD in Fleximove is extracted exclusively from the leaves of the hemp plant and is thus legally permitted in cosmetics in both Switzerland and the EU under the New York Convention of 1961.
Rosemary (Rosmarinus officinalis)
Rosemary was the "medicinal plant of the year 2011". Already in ancient times, its rich needle-like leaves were used for internal, but also external application. Applied to the skin, rosemary stimulates it, promotes blood circulation and relaxes the muscles.
Where is Fleximove made?
Fleximove is produced from high-quality essential oils, which originate mainly from Europe. The production is quality controlled and filled in our Swiss production facility
How natural is Fleximove?
Fleximove is a pure natural product. It consists of essential oils and therefore already has preservative properties, which eliminates the need for chemical additives. The arnica and St. John's wort extracts are from organic farming.
What is Fleximove used for ?
The health claims that are possible for a cosmetic product like Fleximove and its ingredients are exactly specified by the legislator. We are not allowed to go beyond that, even if it should have scientifically confirmed physiological properties. Make up your own mind with an internet research.
What are the advantages of Fleximove?
Quality essentials oils
100% natural
Arnica and St. John's wort extracts from organic farming
Beneficial for joints
Another product from kingnature that is suitable for rubbing into skin, muscles and joints: Hot Shot Sport Gel.
Buy Fleximove online now!
Buy Fleximove online now! You will receive a product with high-quality raw materials and an optimized recipe, which is gently processed and controlled in Switzerland. Scientifically tested vital substances from kingnature!
Product Information Fleximove
Fleximove with Arnica oil, St. John's wort oil and CBD. Net content 30 ml. Fleximove is in stock and available now.
Packaging
Fleximove is supplied in a special MIRON violet glass bottle, which ensures the integrity of the contents. Includes a pipette dropper.
Application
Gently apply the Oil 2 to 3 times a day to affected areas and gently massage in.
Ingredients
Ingredients according to INCI: Olea europaea fruit oil, Hypericum perforatum extract, Arnica montana extract, Aroma, Cannabidiol, Helianthus annus, Limonene, Rosmarinus officinalis extract, Linalool, Glyceryl Linoleate, Tocopherol, Squalene, Beta-Sitosterol.
Datasheet of Fleximove
You can find all product information in the Datasheet Fleximove. 
Buy Fleximove online now!
eKomi Reviews: