Salvestrol Vida 2000
Order quantity
1
2 - 3
4 - 7
8 - 100
Unit price

CHF

 95.80

CHF

 90.90

CHF

 88.30

CHF

 86.50
Salvestrol 2000 from bitter oranges, grapes, citrus fruits and grape seeds. 60 fruit complex capsules with a fruit and pumpkin powder blend. With 2000 Salvestrol points per capsule. Net content 34 g.
Hydroxypropylmethylcellulose (HPMC) is effective!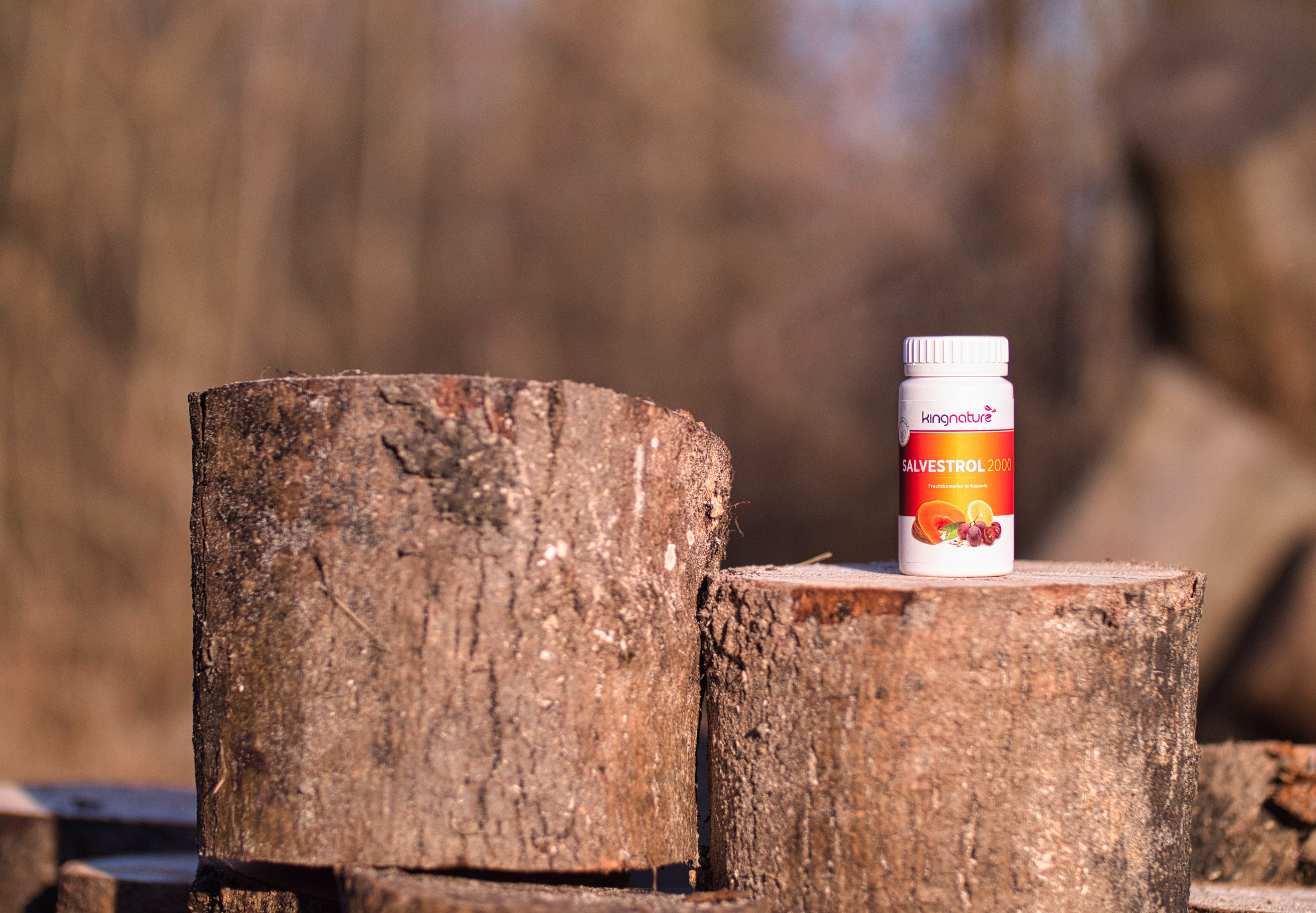 The original Salvestrol from the discoverer! With 2000 salvestrol points and powerful ingredients from a special mixture of fruits, berries and vegetables.
Salvestrol with 2000 Salvestrol points
What is Salvestrol 2000?
Phytoalexins are substances that plants produce for their own protection against bacteria, viruses, fungi and insects. The plant only forms them in larger quantities if necessary. Since conventionally grown vegetables and fruits are sprayed with fungicides and other pesticides, their content of phytoalexins is usually low.
So far, there are no indications that these substances, which form plants for their own protection, have an effect on the health of humans as well.
Salvestrol 2000 contains phytoalexins from bitter oranges, citrus fruits, grape seeds and pumpkin.
Attention fake Salvestrole products!
Fake Salvestrol products appear regularly and are difficult to identify as such. kingnature sells the original product directly from the discoverer and manufacturer. Salvestrol is a protected name. Also pay attention to the Salvestrol logo shown here which is only on the original products.


What are the advantages of Salvestrol 2000 Vida?
The Salvestrol capsules contain 2000 Salvestrol points
The original Salvestrol directly from the discoverer
Vegi capsule made of HPMC (pure vegetable capsule shell)
vegan salvestrol
Buy Salvestrol Vida 2000 Capsules online now!
Buy Salvestrol Vida 2000 Capsules online now! You will receive a product with high-quality raw materials and an optimized recipe, which is gently processed and controlled in Switzerland. Scientifically tested vital substances from kingnature!
Product information for Salvestrol 2000 Capsules
Salvestrol Vida 2000 contains 60 capsules constituted of a fruit complex containing a fruit and berry powder mixture. Net content: 34g. Capsule Size 0. Ingredients: Citrus fruit powder mixture (Europe, 50.5%), vegetable capsule (Hydroxypropylmethylcellulose), pumpkin extract, grape seed extract, rice our.
Free of gluten, lactose, soybeans, preservatives, synthetic colorants, scents and flavors. We exclusively use vegi capsules made of vegetable material (HPMC) containing no gelling agent. Salvestrol Vida 2000 availability: in Stock.
Salvestrol 2000 Vida is also available at your pharmacy or drugstore (Pharmacode 6083553).
Recommended dosage – Salvestrol 2000 capsules
Contact us for dosage and how best to take this product
Nutritional supplements are no substitute for a varied, balanced diet, fresh fruit and vegetables and a healthy lifestyle. Store in a cool, dry place and out of reach of children. Do not exceed the recommended intake.
Datasheet of Salvestrol 2000
You can find all product information in the Datasheet Salvestrol 2000.
eKomi Reviews: